Trial Forest Story

Text version:
I dont remember exactly when it was, but it was a rainy day and I found someone injured.
I saved him, and it changed my life completely
I can destroy all those who oppressed and mistreated me with what he taught me
When he died, I got his name and was born again as Azin
It was you who the master spoke well of? I hoped it was grand, really.
But I know that defeating you will make me even stronger….Hahahah!
Videos for Locked Skills:
[kGC] Asin's Locked Skills:

-more vids to come-
Dungeon Run with Rain Skill

Perriet Jr. / Perseo Jr. MP Test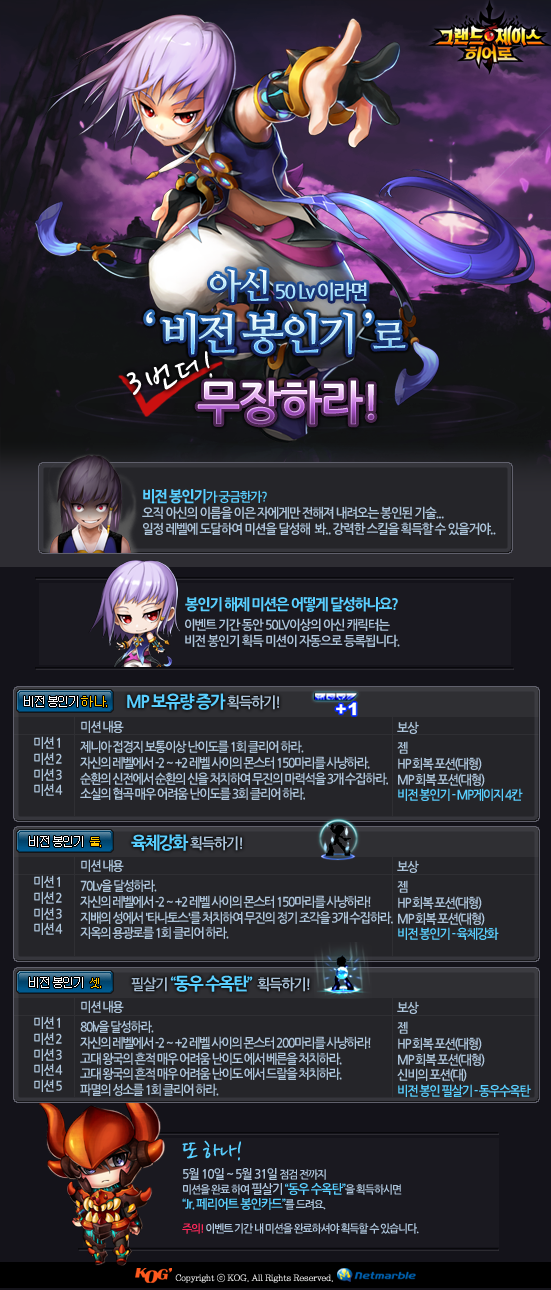 Level 50 for the 4th MP bar.

Level 70 for the Hyper Armor

Level 80 for the 4 bar skill.

The Skill mission is 13 parts. Parts 4, 8, and 13 give the skills. You automatically gain the mission at level 50.

Part 1: 1 run of Xenia Border

Part 2: Kill 150 enemies within 2 levels

Part 3: 3 items from Samsara

Part 4:3 runs of Valstrath

Part 5: Hit level 70

Part 6: Kill 150 enemies within 2 levels

Part 7: 3 runs of Fortress of Ascension

Part 8: Complete a run of The Crucible

Part 9: Hit level 80

Part 10: Kill 200 enemies within 2 levels.

Part 11: Defeat Varon once

Part 12: Defeat Drawl once

Part 13: Complete Sanctum of Destruction
-Kayne
Asin Video Trailer

[youtube]http://www.youtube.com/watch?v=4CKX23bZSUM[/youtube]
bGC Asin's Teaser (English Subtitles)

Videos:
Reuku's Stream Video(from the recording)


Video by Shadow


Asin Additional Skill Test


Additional Skill tutorial


Asin 2 Kinds of Skill Activation Method Preview


Yellow Aura Thing Buff Skill :3


Kira's Dungeon Run [ Xenia Frontier Dungeon ] & [ Ruins of Ancient Kingdom ]



Dodging Freeze Tempest with Asin


How to save Asin from death on some jump stages (by ArashiNoShadow)

---
Quick FAQ
Asin Skill Activation Method
ASDFG = Instant Skill same goes for like AP Character it will have a CD for the Skill
Basic Hold Z = Charge MP1 MP2 MP3 Skill Original MP Characters NO CD for Skills
You Have 2 Types of Activating Skills for Asin
Method A
ASDFG Style or the AP Instant Skilling
Disadvantage You Cant Spam Skill due to CD
Advantage Instant Skill
Method B
Basic Hold Z
Charging MP Skills via Original Method
Disadvantage no Instant Skill
No CD for Skills
Voice Preview
[youtube]http://www.youtube.com/watch?v=D5lqxelPYXQ[/youtube]
bGC Voices (With Subtitles)

Asin Story Images

Asin

Lv 80 Locked Skills for Asin

New Gacha Set Preview
Male

NEW SB Armor Set Preview

Other Things will be posted eg
Video Demonstration and stuffs when servers go up
-Shadow here o/
BLU!G just posted his weapon. The name is "Vembrassa". In the original proposal, the weapon would be called Gloves '-'

– Kira
/edited by Reuku
/edited by AnS